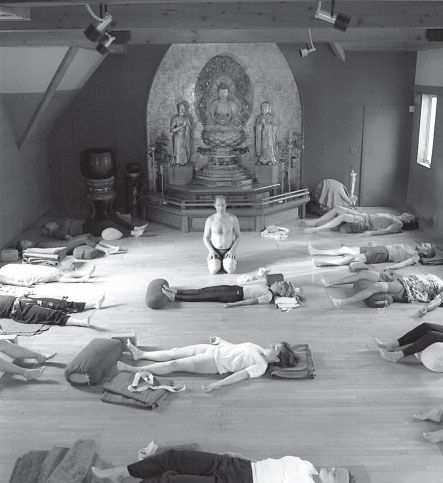 Open to all.
our classes
A typical yoga class at Open Sky is a group of 10 to 30 people working with a yoga teacher and perhaps an assistant for an hour to an hour and a half. The teacher creates and maintains an environment where participants feel safe and unpressured. So life can happen inside-breath can breathe and heart can pulse with contentment. People of all ages and levels of physical ability are welcome.
Back Care/Gentle Yoga

For those suffering from low back pain, herniated discs and scoliosis, or people desiring a slow and more careful approach. A great complement to physical therapy and chiropractic care.

Restorative Yoga and Relaxation

Supported resting poses and deep breathing to counteract the effects of stress. Benefits those suffering from chronic illness, immune deficiency and generalized fatigue.

Yoga for the Deaf and Hard of Hearing

Open Sky Yoga is pleased to announce an Iyengar-style yoga class taught in American Sign Language. This will be an ongoing beginner's level class that will focus on physical postures, breath awareness, and relaxation. Those of any age or level of physical ability will benefit from increased flexibility, strength, balance and clarity of mind.

Therapeutic Yoga

An extraordinarily gentle class for those dealing with chronic pain or disease from illness or injury. Yoga postures will be done using a variety of props. Focus will be on restoring function to the body for increased ease of motion in your everyday life. We will also practice Pranayama (breath awareness) to improve lung function, and meditation to increase health and peace of mind.
Class is gentle enough for all. Participants must be able to walk up a small flight of stairs.
Level 1 Yoga

For beginners and those new to Iyengar yoga.

Level 2 Yoga

For students with at least one year of Iyengar yoga.

Level 3 Yoga

For intermediate students with strong skills in basic poses and a consistent personal practice.

Level 4 Yoga

For experienced practitioners and teachers.

Private Classes

For students to begin or develop a home practice. For people with health challenges such as back or neck pain, sports injury, chronic fatigue, and migraines. For artists to perform with ease and focus. For meditation practitioners to improve sitting posture. For yoga teachers in search of mentoring.